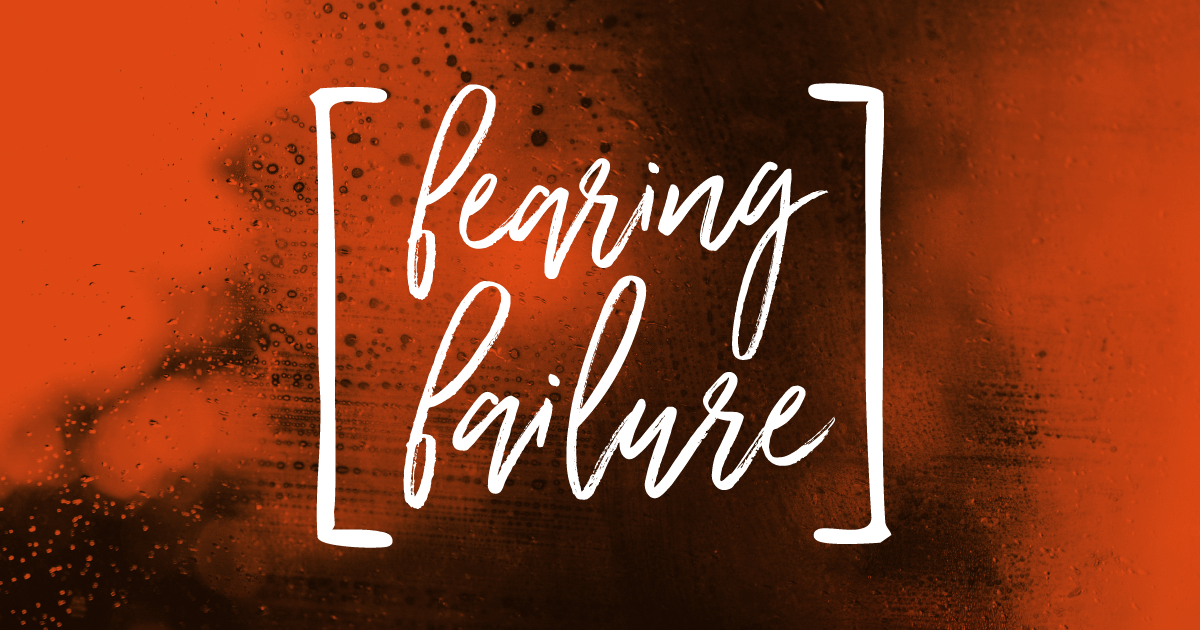 Has God ever led you into a circumstance that pushed you out of your comfort zone? Maybe you're even in a situation like that right now. There have been many instances over the past couple years that God had stretched me farther than I ever thought possible. He's led me places that I never thought I could go. It's been through those times, stretching me in my comfort zone that I've grown to fear failure the most.
In times where I feel unequipped, incapable and unexperienced is where my heart has incredibly feared if I would fail at the task God was leading me towards. I didn't want to let God down. I didn't want to disappoint. And selfishly, I didn't want to appear incompetent.
A couple months ago I had agreed to take a temporary position at a local print shop to help aid them while an employee was out on maternity leave. I had expressed before accepting the 6 week job that I had no experience with working in such a position before, but was offered the job on the spot. What I thought would be filling in for a couple easy weeks quickly turned into me feeling totally unqualified for the job at hand. Tasks I've never handled. Preparing files I had never been taught how to set up. It didn't help that the owner was watching my every move and was blatantly pointing out all my mistakes. On my drive to the shop each day my heart would race as I grew so incredibly worried what mistake I would walk into that day. I felt so much anxiety flood over me for those 6 long weeks I worked there. I allowed the pressure and expectations of what others thought of me and the judgement of my performance to consume me, and I couldn't find peace and let God take the troubles on my heart.
Has anxiety ever gripped your heart, and you couldn't seem to break free? Fear can be incredibly difficult to release over to God. As strange as it sounds, I've even grown worried for not being anxious about my problems. I've allowed anxiety to help me feel like I can control my situations by processing everything that could possibly go wrong. I try to take situations into my own hands by worrying about them, instead of reminding myself that no matter what the outcome, God will use it.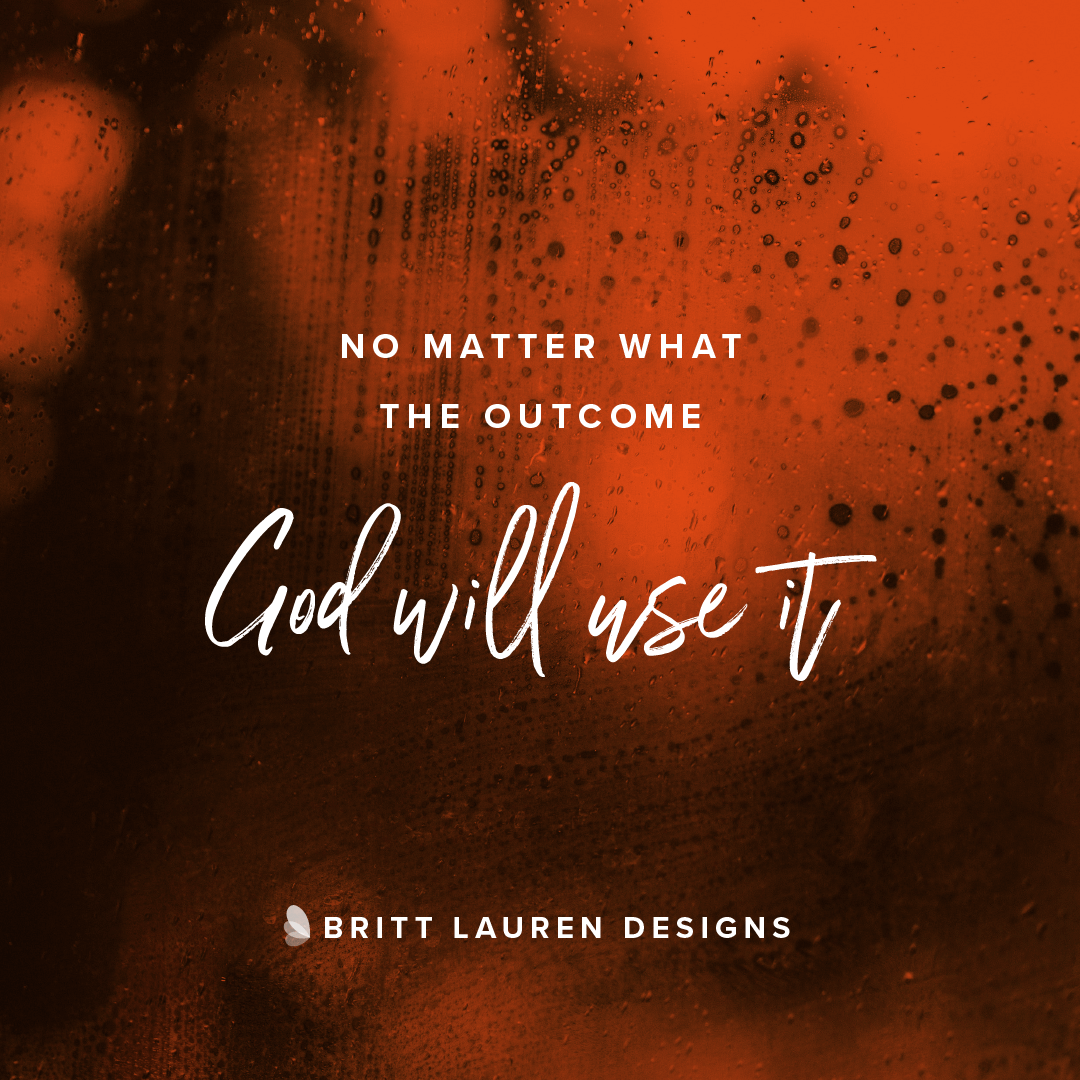 We don't have to fear failure because even when we do fail, God still uses it for His glory. I've messed up so many times and have later felt so discouraged for my performance. I've questioned why God chose me for the task and why He didn't use someone more equipped. I've doubted God's choice and wished He chose someone else so they could have performed the task more efficiently and effectively.
Even in times when we feel like we messed up God's plan and didn't fulfill what He called us to do, we are mistaken. God only wants us to be obedient, do our part, remain humble and serve Him. He never asked for perfection. Even when we fail, God still uses us. Sometimes our failure is teaching us more than if we succeeded. When we fail, we are being humbled. God loves a humble servant who seeks Him for guidance, help and support. When we feel incapable, it grants us the opportunity to see God work through our weaknesses.
We look at our weaknesses as hindrances, but God sees our weakness as opportunities to show His glory through us. We know that when we are incapable of the task at hand, it leaves no questions when we overcome that God was involved.
A Bible character I most associate to is Gideon. He was a timid, fearful man who didn't possess leadership skills or a lofty status. In fact, when the angel appeared to him, he was threshing wheat in a wine press hidden below the ground to keep hidden from the Midianites who were out to seek revenge on his people. When God instructed Gideon to lead an army against the Midianites, Gideon doubted God's decision and made known that he was no man of courage, but God saw Gideon differently. Instead, God called him a "valiant warrior." I can imagine Gideon was surprised by that title, especially when he was literally hiding below the ground threshing the wheat.
Judges 6:12
When the angel of the LORD appeared to Gideon, he said, "The LORD is with you, mighty warrior."
Even despite Gideon's doubting and fear, God used an incapable man to perform His great plan. As we read later in the story of Gideon, God told Gideon to decrease his army from 32,000 to a measly 300 men to fight against the estimated 135,000 Midianite army. Gideon remained obedient to God, even when the odds appeared ever so against him. God displayed His sovereignty in a miraculous way, and wouldn't have been possible if Gideon was capable and attained a large army like he would have desired.
Let me share three reminders that we can pull from Gideon's story:
01. God meets us where we are
God understands our fears and doubts. He knows what is troubling our hearts and sees the situation He's placed us in. He's selected whatever situation we're in especially for us to experience. He is there to comfort us in our fear and offers us grace, even in our anxiety. God met Gideon in the winepress, He didn't expect Him to overcome His fear immediately and displayed grace to Gideon's many doubts and questions.
02. God sees our potential
Even when Gideon was hiding in the winepress trying to thresh the wheat, God saw Gideon's full potential. God viewed Gideon as what He would become, a valiant warrior, not as the timid man the world saw him as. That is such a great reminder, that God sees us as what we will become, not how we perceive ourselves. We may believe that we are a failure, but God sees a warrior that is in the making!
03. We aren't capable
Often God places us in situations that seem incredibly impossible. We look at what God is calling us to do, and it seems daunting. When God instructed Gideon to remove soldiers from his army, I can imagine Gideon grew fearful of what God was thinking. I know I would. God didn't want Gideon, or the men, to get any ideas that they were the ones that were capable of defeating the army. God wanted His glory and power to be shown through the men so they were aware just how mighty God was.
In our situations that seem impossible, God may just be trying to display His power through us. We aren't the capable ones, but God uses those who are humble and willing so we can see His great power. God knew Gideon wasn't capable on his own, but yet He still viewed Gideon as a warrior, not because of the success he'd have by winning the battle, but because Gideon was faithful, obedient and would follow Him.
2 Corinthians 12:19
"My grace is sufficient for you, for my power is made perfect in weakness." Therefore I will boast all the more gladly about my weaknesses, so that Christ's power may rest on me.
When God calls us to situations that we feel fearful of failure, we can remember God understands our heart and He will help equip us for the task that feels impossible. When God calls us down a path, He never makes us walk alone. He will guide, equip and use us. We may feel like a failure in the process, but God is only using your perceived "failure" to humble you and display His miraculous power. He only desires your humble, obedient heart that is willing to be used by Him. When we realize that we're incapable on our own, we can release the fear of failing because we know God will use us no matter if we mess up or succeed. God can use even the worst of performances to display His amazing power and love to the world, all you need is a willing heart!