From the moment we wake up each morning, lies and negative thoughts begin infiltrating into our minds. Doubts flood our thinking and discouragement can feel like it dominates us. I have to admit, I've allowed negative thinking to become a part of my daily schedule, without me even realizing it. Most days consist of me thinking negative thoughts about who I am, what I have to do or what problems potentially may arise. Lies fill me with fear that my future may not go as I had planned. That maybe this time God isn't going to pull me through. That I've made too many mistakes to be forgiven one more time. That God isn't able to work through my seemingly hopeless struggle.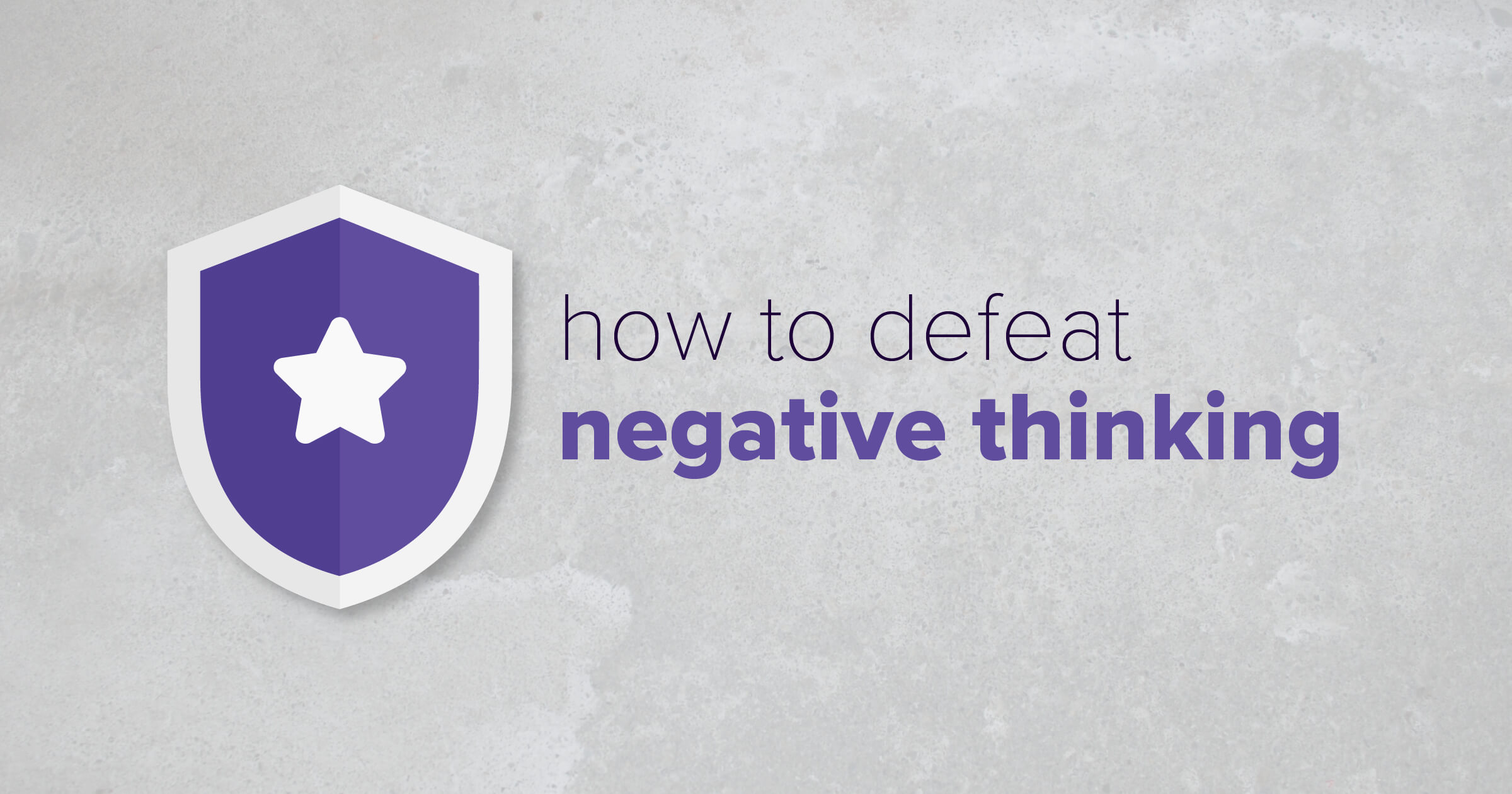 I have found that doubts, lies and negative thinking can really trip me up. It can cause my mind to be deceived, resulting in me feeling paralyzed in fear to fulfill the life God has called me to pursue. Some days I feel entrapped into thinking I'm not qualified to accomplish what God desires for my life. Sadly, there have been many times I've allowed negative thoughts to overtake God's voice in my heart. I've let them overwhelm me and deceive me into thinking they were true.
It's a constant battle to infiltrate our minds with God's truth, when the enemy is constantly targeting us for defeat. Satan's job is to bring down God's children and cause them to be crippled in their faith, paralyzing them in fulfilling God's plan for their life. I can say that Satan's gotten his grip on me endless times. Reminding myself that Satan's out to get me and targeting me in my walk with God helps me keep getting back up and pursuing God. I don't want Satan to get the best of me. He's not going to win and have me wasting away a purpose that God has called me to fulfill!
I'll list six of the top negative thoughts Satan has deceived me into thinking. In response, I'll provide God's perspective and truth for each negative thought. Let's begin!
My life is too mundane to be used by God
Are there days when you grow discouraged with the life you lead? Maybe it seems like your life, in comparison to others, doesn't amount to much. Others are saving souls, serving in the mission field, writing best-selling books or are famous speakers using their lives to glorify God. Every day you're flooded with photos, posts and messages filling your mind with lies that your life doesn't look as appealing as theirs. It can become discouraging comparing your life to their "success story."
It's easy to think that mundane tasks, such as, folding laundry, sending emails, washing dishes or going grocery shopping could never be used by God. Maybe your full-time job seems like it consists of mediocre tasks, leaving you feeling unsatisfied with God's purpose for your life. I believe that God uses the most common of tasks to build our character the most. How we perform our day displays our character and humility. Are we serving God even amidst the tasks that seem most insignificant in our eyes? God views our seemingly small lives as something with great potential. He sees opportunities for us to use our lives (even the mundane tasks) to deepen our character. He's strengthening our trust when we don't see the great things He's doing for us, and when He's working within us.
I like to think of all the many men and women in the Bible who were used by God to display His greatness. They weren't famous, popular, qualified people who led great and successful lives. They were men and women who were invisible to the world, but He used their ordinary lives to reveal His power. It is when we are small when God's glory can be displayed to it's fullest intent!
Satan wants to deceive you into the lie that what seems to be small, ordinary and insignificant in your life is meaningless. God reminds us that He desires to use people who are submissive and willing. Your life can be mundane, but it still can be used by God in an extraordinary way. You may just not be aware of the miracle He is performing yet! As long as you're willing, serving and seeking God's will, He's using your life to it's fullest potential, don't lose heart! The greatest miracle may be what He's doing inside you!
Whoever can be trusted with very little can also be trusted with much, and whoever is dishonest with very little will also be dishonest with much.
When God is silent, He's not working
Silence is often viewed as inactivity. When God is silent Satan wants us to assume God is inactive in our life. When I can't see God working or feel Him near, it becomes easy to doubt His presence. This is where Satan's deception comes into play. He intertwines doubts and negative thoughts into our minds to cripple us into thinking God is inactive in our life when we can't validate His presence. God's character is different from what we experience here on earth. When people are silent, it's often viewed as a lack of concern or interest, but God doesn't work the same way. When God is silent, it's used for a totally different purpose.
I love the quote that states "The teacher is silent during the test." When God seems silent in our lives, it's not showing lack of interest, but rather He's using it to refine our trust in Him. He's testing us to see if we will remain faithful to Him even when we don't see any signs of Him working. True faith is believing when you can't see.
Now faith is the substance of things hoped for, the evidence of things not seen.
Satan wants you to believe the lie that because you can't see God working, He's forgotten about you. Rest assured God is active in your life. He's thinking about you every moment and nothing goes through His hands that isn't meant to benefit you in the very best way. Satan wants you to doubt God's activity in your life and reject His provision and involvement in your life. Remember God's character. He won't forsake you. He is for you. It's impossible for Him to fail you. The Lord is always near to those who call on Him. He's working out everything for our benefit.
For I am confident of this very thing, that He who began a good work in you will perfect it until the day of Christ Jesus.
Rejection defines my worth
Do you become fearful in rejection, anxiously waiting every moment for someone to walk away? Do you become worried when you begin to open up with someone that they might leave you if they don't like what they see? Rejection stings. It cuts deep. In my mind, rejection feels a lot like loss. It's like that person is removed from your life, but instead they chose it and they want it that way.
Rejection is something I personally struggle with immensely, and Satan is fully aware of my shortcoming in this area. With each new wound of rejection, it leaves me feeling like that scar was reopened once again, but each time growing deeper than before. Being rejected feels personal, causing me to look within and question my worth. Satan throws lies and doubts our way when we interact with others, twisting the truth and causing us to lose our self-worth.
Maybe you weren't invited to that event. Maybe they turned you down for the job. Maybe you weren't qualified enough to get that raise. Maybe your best friend found someone better to spend time with.
God has been patiently trying to teach me that even though the pain of rejection can cut deep, He will be my source of healing. People were never meant to satisfy us or define our worth. If we view ourselves through the eyes of how others treat us, then how we view ourselves will always be changing. Choose to find your true worth in God; how He sees you will always remain the same. Then, when you encounter rejection, it won't feel like it's defining your worth, because it is rooted firmly in God.
Even the hairs of your head are all numbered. Fear not; you are of more value than many sparrows.
I'm inadequate if I'm single
Marriage was always one of those things that I thought would occur in a timely manner in my life. While I wasn't one who craved to date or become married when I was young, it was something I thought would happen without the requirement of so much endurance and patience. Through singleness I have allowed Satan to defeat me the most in causing me to feel inadequate in regards to others who have gotten married. I've allowed my heart to secretly grow jealous of their happiness and fulfillment. I've bought into the lie that marriage was a checkbox for success and defined my value instead of viewing it how God intended.
God never intended marriage to be something determining worth, but rather wanted us to use marriage to serve and glorify Him. Whether you're single or married, everyone's purpose is still the same: we were created to serve and glorify God. Some, God has called to marriage to best serve and glorify Him, while others can fulfill it best remaining single. Both are equally valued in God's sight and neither is more significant than the other. Satan wants us to get so caught up on what we can get from marriage that we forget what we can give God through marriage.
While I desire to become married one day, I can rest on the truth that God knows that this current season is the best place for me to glorify Him with exactly what I have right now. In God's perfect timing, if it's God's will for me to get married, He will use my marriage as a tool that I can continue to glorify Him.
My past defines my future
Have you ever experienced a present situation that arouses negative emotions from the past? Typically times like these pull memories from my past that evoke negative thoughts to emerge. Insecurities from my past, deep wounds that left scars on my heart and pain that I tried to stuff deep inside over the years floods back in, causing anxiety and fear of what could occur once again.
Satan likes to use our past to cripple us in the present. He uses our shame, guilt, regrets, insecurities and pain in whatever way he can to get us to trip up. He knows the very things that broke your heart, causing it to never be the same again. He selects those areas you struggle in the most to steal the best from you, and in result, cause you to stumble in your spiritual walk.
I've allowed memories from my past to cause doubts of what could await for me in the future. I've let fear steal my joy, because I've assumed my future is dictated by my past. While it's wise to learn from the past, we shouldn't let it dictate how we view ourselves today. Even though our past may have been filled with pain, struggles and endless waiting for God, doesn't mean that He won't ever provide you with that answer to prayer you've been desiring.
While our past does shape and mold us into who God created us to be, I don't believe God ever wanted it to limit us. Satan wants to weaken us and fill our minds with bad memories of the past to undermine us and wreck our present circumstances. We can't change what occurred in the past, but we can act in the present as a new opportunity to trust God and walk in faith, knowing that He's using it to teach us something new and amazing!
Forget the former things; do not dwell on the past. See, I am doing a new thing! Now it springs up; do you not perceive it? I am making a way in the wilderness and streams in the wasteland.
Feelings dictate God's truth about me
One of Satan's greatest tools in getting us to think negatively is through deceiving us through feelings. Feelings entangle us into lies and false ideas. They confuse our minds to rely on how we feel rather than what is truth.
At times I've allowed feelings to replace God's truth in my heart. I've found it sometimes difficult to distinguish between my voice and God's. In some circumstances, we should take our feelings into consideration; although, one of Satan's primary tactics is to twist what can seemingly be profitable and distort the truth. He's skilled in this area of deception.
I've struggled with feeling unqualified in my performance, unworthy of love, forgotten by God, a failure…the list could go on. I've allowed thoughts of what others might think of me to define my worth, when they're only based on feelings.
When your feelings are overwhelming you with doubts, worries, dread, disgrace and shame, take a moment and decipher where they are coming from. It's most undoubtedly a web woven by Satan's lies to pull you into his deception. Thoughts that tend to cause us to think negatively of ourselves are Satan's plot to draw us away from God's truth. When you find yourself thinking negatively, eliminate that negative thought and replace it with a promise from God's Word. Write it down so you can easily reference it when you need it. Most often it's not something Satan will only deceive us with once. He's known to pester us more than once in areas we tend to struggle in.
Be on alert and understand Satan's schemes. Don't forget that he's constantly trying to deceive, destroy and derail you from the path God has called you on. It's Satan's mission to twist the truth ever so slightly and pull you deeply into negative thinking. Don't let him win. When you begin thinking negatively, analyze where it's coming from and seek God in prayer in defeat against the enemy. Recall God's promises and remember His character.
Submit yourselves, then, to God. Resist the devil, and he will flee from you.