Definition:
"The action of yielding to a superior force or accepting the will of another person."
Submission is a humbling experience in which we let go of our pride, selfishness and our control over our circumstances. It's difficult to place our precious plans, needs, wants and desires into the hands of someone else. It's hard letting go and remaining calm when the struggles we're experiencing are in the hands of a God we can't hear or see. It truly does distinguish how strong our faith is when we can submit our life to God on the hardest of days.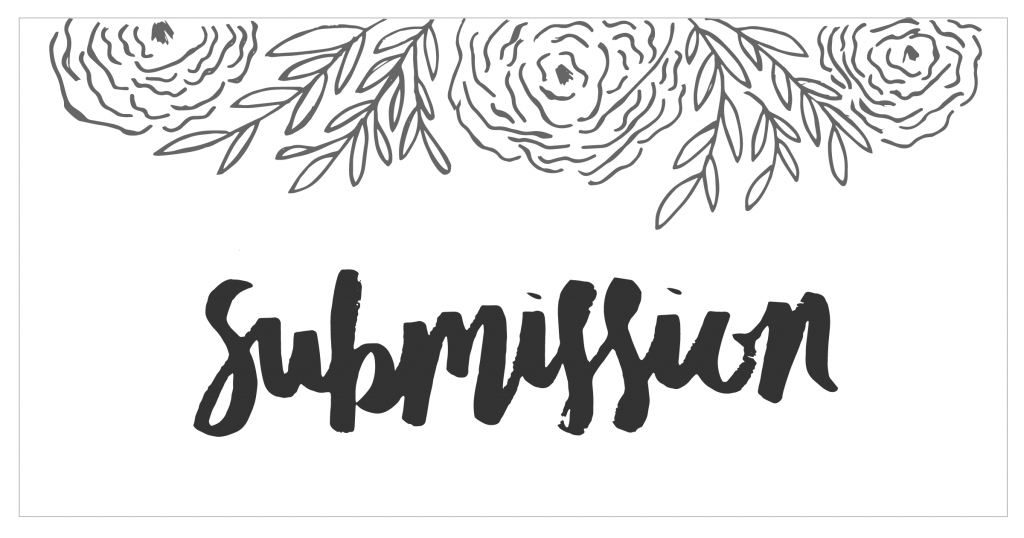 I have so many plans I wish would occur in my life. Things I want to accomplish. The person I hope to become. Ways I want to grow and strengthen. People I want to inspire. Changes I wish I could make in the world. Unfortunately we don't live in a perfect world. The dreams and desires we have for our lives don't always occur. We have plans, but God has better ones. Sometimes I grow discouraged with where my life is at and I wish my life had more meaning. I look at the tiny life I lead and wish I could be doing greater and better things. I've come to realize that I often overlook the small things. God is using even the smallest of details to be used as something great. He's molding and shaping our hearts right now for what is to come. Whether it be later in this life on earth, or for our eternal home.
Submission might feel like you're giving up the dreams you have and giving them over to God to take control of. It might feel like you're missing out or being let down of what you desire. God never lets us down. It's impossible for Him to fail us. You're never missing out when God's in control of your life. He's brought special circumstances into your life for a reason. They may sometimes feel like burdens, but they are opportunities. Use what you have, no matter how small, and take advantage of what God's given you. It may not be what you wanted, or expected, but He's placing it in your lap for a reason.
Submission gets hard when we have to give up the life we had planned out. Submission is emptying ourselves of our wants and desires and letting them go so God can work through them. Submission is not knowing what God's plans are, but trusting He knows what's best. Submission is respecting God enough to know that He is for you and is using whatever happens for a perfect purpose. Submission is letting the worries and wants of your heart to be set free and no longer letting them only be your burden to bear.
Isaiah 55:8-9
For my thoughts are not your thoughts, neither are your ways my ways," declares the LORD. As the heavens are higher than the earth, so are my ways higher than your ways and my thoughts than your thoughts.
In our afflictions we are either submitting to our circumstances or we're submitting to God. We can't submit to both. For me it's usually a constant battle between the two. One minute I'm submitting to God and the next I feel myself quickly putting up a wall of resistance to take control. When we're submitting to our circumstances we are letting Satan win. We are letting our doubts and desires overtake God's truth. We are questioning God's goodness and wisdom. Submitting to God displays that we have faith that God will work through our situations, and no matter what the outcome, it is for a perfect purpose that we may not understand. Submitting to God is giving Him the steering wheel and taking the back seat.
Remember what is true of God. He promises to provide exactly what we need. He doesn't promise a happy life. He didn't promise that we'd have a clear direction and that He would provide direct answers to all our prayers. Instead, we try to take control of our lives and work things out on our own. We act like God isn't enough for us. Don't live in such a way that if something is taken from your life it would cause you to question God's goodness and hinder your drive to continue on. Don't let the very things God has blessed you with become more prominent than Him and overtake the special place He has for them in your life. Everything in our life may not feel like it's working out, but it doesn't have to work out yet because this is not the end. A perfect life isn't the key to our purpose here. An easy life isn't the goal. It's using our life to fulfill God's purpose, love others and glorify Him.
2 Corinthians 4:16-18
For our light and momentary troubles are achieving for us an eternal glory that far outweighs them all. So we fix our eyes not on what is seen, but on what is unseen. For what is seen is temporary, but what is unseen is eternal.
We don't have to protect our life from everything. We'll never have a life untouched by pain or heartache. Choose to build things with your life for a greater purpose. Even if it costs you in this life, you have a greater future when you submit them over to God. Submission to God is telling Him that He has you no matter what happens. You'll keep trusting even when it doesn't make sense. You believe in His goodness even when all the signs are screaming at you to doubt and question His presence. Although submission often brings more suffering than we intended, our worst day with God on our side is more fulfilling than even the greatest satisfaction or success that we could ever experience here on this earth.