When we think of loss, most often the first thought that pops into our head is someone we love dying and passing away. While most loss does involve death, it certainly isn't limited to a physical death of a loved one. We encounter many losses in our lifetime that require us to endure through a grieving process. Many of us may not realize just how much we need to grieve when God takes something from us. When we have proper insight on what God removes from our lives, and we can intentionally grieve their loss, I believe it can help us process our pain more effectively.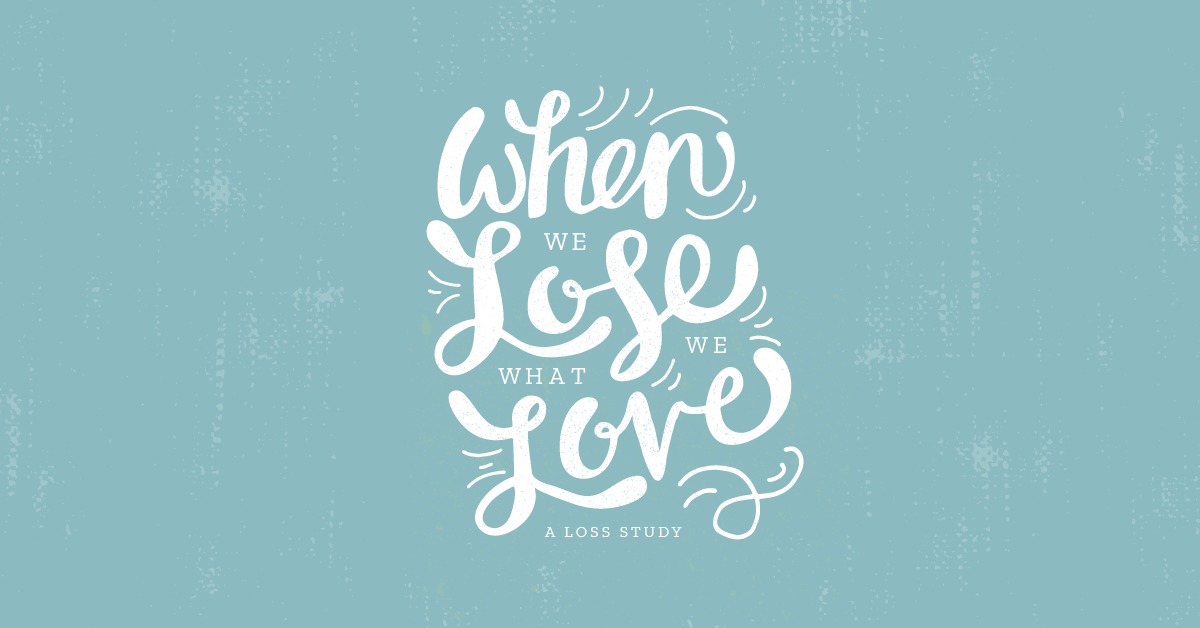 In fact, grief is one of the most important kinds of pain since it helps allow us to "let go" of our pain, heartbreak and disappointment. It is a process to help remove all that's eating away in us, and release it over to God, helping us to become refined and restored to a renewed vessel to be used by Him.
Without having God to help hold us up amidst time of deep pain, grieving can become incredibly difficult. We need God's love to uplift us and sustain us so we can lean on Him for strength.
To get a better understanding, I'll list out some of the losses we can face, many of which we may not even realize could be associated with the word "loss".
Death of a close friend, parent, child, spouse or family member
Infertility
A relationship ending
A breakup or divorce
Illness or health issue
Death of a pet
Destruction of home or property
A shattered dream
Change or loss of job
Today I'm including a snippet from the study, and will focus on the fourth phase of loss: "Emotional Overload."
Sorrow can fill our heart, replacing any signs of joy that we thought might help us overcome our loss. I have found that the losses I have felt in my own life have left a very heavy weight on my heart. Sometimes the suffering has cut so deep I felt like I was wounded beyond healing. I questioned whether the deep severed scars on my heart would ever heal.
What has been done to us can feel like it dictates us. When we face a loss in our lives, it feels like that loss defines us. A loss of a child can feel like we're incapable to save our child. A loss of a loved one can feel like part of us is missing and makes us feel incomplete. A loss of a relationship can feel like we weren't worthy enough of that person's love anymore. A health issue can cause us to feel like we're limited to our full potential, making us feel inadequate and lacking purpose.
Losses don't just cause us pain and heartbreak, it can leave us feeling broken inside and wondering if we'll ever fully mend. In some cases of deep loss, we'll never truly be the same again. Grasping that fact can hurt. It causes an ache on my heart to know that things that have occurred in my own life have impacted me in such a way that leave scars that will never fully heal. Each new scar of a deep loss can feel like it causes me to become more broken and flawed in result of something that has occurred in my life.
You may find that certain scents, sounds or places evoke memories from something that you've lost. These memories can remind you of a happy time, but can also cause you to feel deep pain knowing that you no longer can enjoy those moments again. Even the best of memories can result in you feeling saddened and wounded.
With each loss we face we can remember that God is using it to strengthen us. He's allowing the very losses that break our heart to the core to help equip us for His grand purpose for our lives. We can use those losses we face to help relate to others enduring through a similar experience. Our scars can be our bond to others during a hard time. The things that caused you never to be the same again, could in fact be what helps you identify with someone else's pain. Jesus used His scars to reveal to His disciples who He was. He wasn't afraid to hide His scars, but used them to remind them how much He went through, and who He was. His scars weren't something He felt defined by negatively, but He used them to show God's glory in an amazing way. He didn't desire to have a flawless appearance, but displayed His scars so we could relate to His humanity. You may view your scars as negative wounds, but God sees them as milestones that show how far you've come. Scars can be used as great reminders of how God has worked in your life and in your heart.
This stage of grieving can often feel like you'll never get through it. This was one of the longest stages for me to overcome. When God has stripped things from my life that ripped part of my heart out, I tend to process the pain through tears. I internalize most of my pain and prefer to go to a quiet place to let all my sorrow out. Somehow just being alone with God and telling Him what's on my heart can ease the strain of acting like I have it all together. The grieving process isn't an easy one, and you'll feel worse before you get better. It's best to use this time to grieve through your loss and let out your emotions. You need to be able to process the pain so you can overcome your loss effectively.
The LORD is close to the brokenhearted and saves those who are crushed in spirit.
When you're enduring through this time of sorrow and pain, let it out. If you have a close friend, reach out and schedule a time to chat through how you're feeling. Don't allow it to become a pity party, but a time that is essential for you to lean on a friend or loved one so you can process your grief. If you can't think of a friend to reach out to, call out to your heavenly Father, He's always there to listen and help you. You won't find a better one than Him. He's the one that has seen all you've endured through and has the highest ability to help you!