Do you catch yourself feeling broken and in despair most days? Do you feel like your life consists of tiny mismatched fragments that just don't seem to make an ounce of sense? We all have encountered heartaches, broken dreams, shattered plans and deep wounds that cut our hearts, making us wonder what God's purpose for our pain is. We try to achieve perfection in all areas in our life, wanting no sign of tragedy or hardship. We pray for God to ease our pain. We want Him to fix our problems. We desire that He would provide answers to our endless questions. We crave signs that He is working in our lives.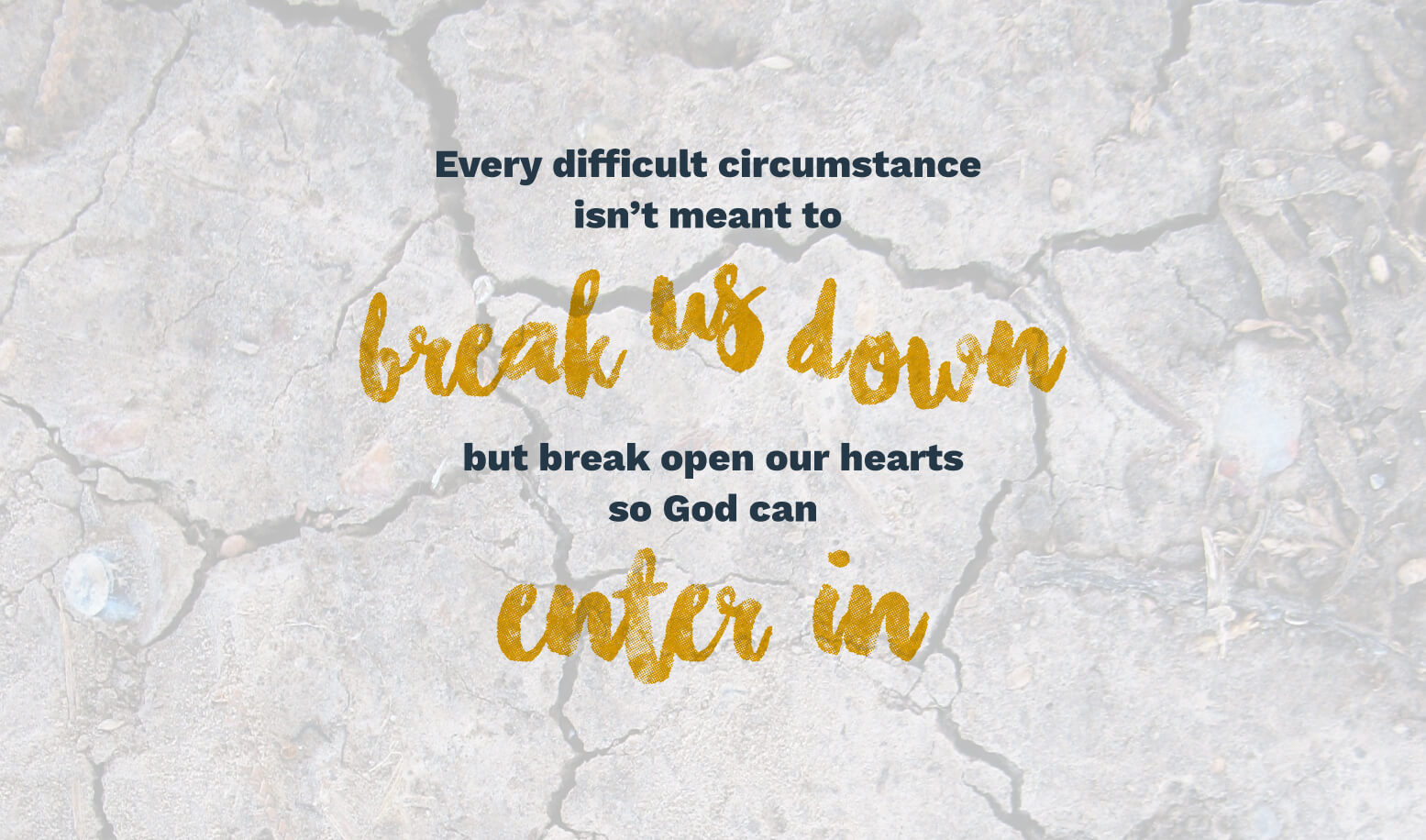 Starting at a young age God has brought struggle, hardship and difficult times into my life. Dark moments that I never thought I'd ever overcome. Times when I didn't want to live another day. Struggles that felt too overwhelming to find the strength to carry on. Looking back, I've seen how God has provided and given me strength to overcome each difficulty. God displayed miracles and glimpses that He was at work in my life, but with each new struggle, I still find myself getting tripped up into doubting God's plan. I grow disappointed for feeling so close to God one moment, and then feeling like I'm doubting Him the next.
I'll be the first to say that I struggle believing God is working in my life and is providing for my every need. I desire answers to circumstances that just don't add up. I've asked for God to give me signs to help me know He is near. I believed the lie that my circumstances needed to change for me to be content and fulfill God's purpose in my life.
God has been chipping away at me, trying to soften this hardened heart that wants to plan my life in accordance to what I think will satisfy. While I'm still ever so far away from achieving this, God has been graciously teaching me that my seemingly unfulfilled life doesn't need to change. I should be continually seeking after God for direction, but I don't need Him to fix my circumstances. I don't need all the answers when things don't make sense. I don't need proof that He's working. I don't need my heart to heal, because maybe my broken heart is the best way for me to seek God like I never could if things were how I planned.
If I didn't feel rejected, I wouldn't have known what it felt like to have God as my best Friend. If my heart didn't break, I wouldn't have known what it felt like to be healed. If my future was clear, my faith would have never grown. If I had my way, I wouldn't have learned how to submit. If I never made mistakes, I wouldn't have experienced God's grace. If I never experienced dark valleys, I wouldn't know the joy of reaching the mountaintop. If I didn't have shame, I wouldn't know what it feels like to be eternally forgiven. If I never was shattered and broken, I wouldn't know what it feels like to be refined and restored.
I need to focus my attention on God and remember He is God. I need to rely on His promises, knowing He's near even when it feels like He's more distant than ever. I don't have to live in fear or wallow in anxiety wondering what awaits for me in my future. I can rest, knowing my life is in His sovereign hands, perfectly planned out and is under control.
I want to stop looking for answers and entrust my life to the One who knows all the answers. I want to stop wishing my circumstances would change, but rather have a heart-change. I can be broken, because I know it's strengthening me. I can delight in my suffering, because I know no pain goes to waste. With each new day that I'm left with unchanging circumstances and a life still broken, I can find hope that it's refining me.
How I long to one day be able to finally live the words that Paul wrote in Philippians 4:11-13. To be able to completely surrender my life into God's hands and find contentment with every trial and dark valley of suffering.
I am not saying this because I am in need, for I have learned to be content whatever the circumstances. I know what it is to be in need, and I know what it is to have plenty. I have learned the secret of being content in any and every situation, whether well fed or hungry, whether living in plenty or in want. I can do all this through him who gives me strength.
Our brokenness provides us with an intimate opportunity. It strengthens our faith. It tests our endurance. It refines our character. It deepens our relationship with God. He is using our broken lives, arranging the shattered pieces that seem irreparable, and is fitting them all together into a great piece of beauty. One that could only be formed through pain and heartbreak.
One of my favorite authors, Lysa TerKeurst mentioned in her book "It's Not Supposed to be This Way," how potters use the dust from broken pieces of pottery to form new clay. In order to create this shattered dust, the broken pieces must be completely shattered into a perfect consistency. This dust, when added to the new clay helps make it become stronger and able to endure greater heat, producing a more polished piece of beauty when it's completed. I love that analogy! The broken pieces of our life that feel shattered and unusable are being united together with our future purpose, to make an even stronger and more stunning finished piece of artwork.
Every difficult circumstance that God brings into our lives isn't meant to break us down, but break open our hearts so God can enter in. Our brokenness is the beginning of God working within us to prepare us eternally for our heavenly home. The very trials, struggles and pain we are facing now aren't just haphazard events meant to make our lives miserable. They are being used intentionally to prepare us, strengthen us and work in us for our eternal home. Nothing we experience here goes to waste.
The Lord is close to the brokenhearted and saves those who are crushed in spirit.
Maybe God is using your brokenness to supply you with the experience and understanding of what pain feels like so you can comfort and display compassion to others who are enduring through a similar circumstance. God is using your circumstances, the good and the bad, uniquely to touch other people's lives and identify with their pain. Don't miss out on the importance of each difficulty that is shaping, molding and preparing you into who God created you to become.
Choose to take a look at your broken life and know that God is seeking to draw closer to you. He's desiring more of your heart. He wants to keep you focused on Him, instead of being pulled away by the temporal pleasures that this world can distract you into thinking will satisfy. You may think a perfect life is what you need for happiness, but it only leads to an emptiness that will never be fulfilled. We can find hope and joy knowing if God is breaking us, He is refining us, creating a beautiful vessel that has been uniquely handcrafted by His hands!
Thank You Lord for breaking me open. Thank You for wanting to fill my life with difficult times, struggles and pain, because each hardship has led me to knowing a deeper part of You. Thank You for never giving up on me when I've doubted and questioned. Thank you for working on my hard heart so I could be softened to Your will.
I'll leave you with two songs that helped inspire my blog post and include some of my favorite lyrics from their songs. I hope they encourage you…
Every broken road, every shattered dream
All of the times I failed, You were grace to me
Now when I look back on my story
There is no way I'd know who You are
If You'd never let this world break my heart
I need truth instead of answers
I need faith instead of sight
I need trust when I can't find the reasons why
I need presence over blessings
I need promise over proof
I need hope instead of healing in my life
What I really need is You