Do you feel like you're trudging through a desert place? Does the current season you're in feel like it's desolate, dry and unproductive? I believe we all experience times when we question the purpose of the season God has us in. Whether God seems silent, whether we can't see the results of our effort or when we don't see any sign of relief, we can feel like we're stuck in a desert. A place where there seems to be no hope. No restoration. No activity. No growth.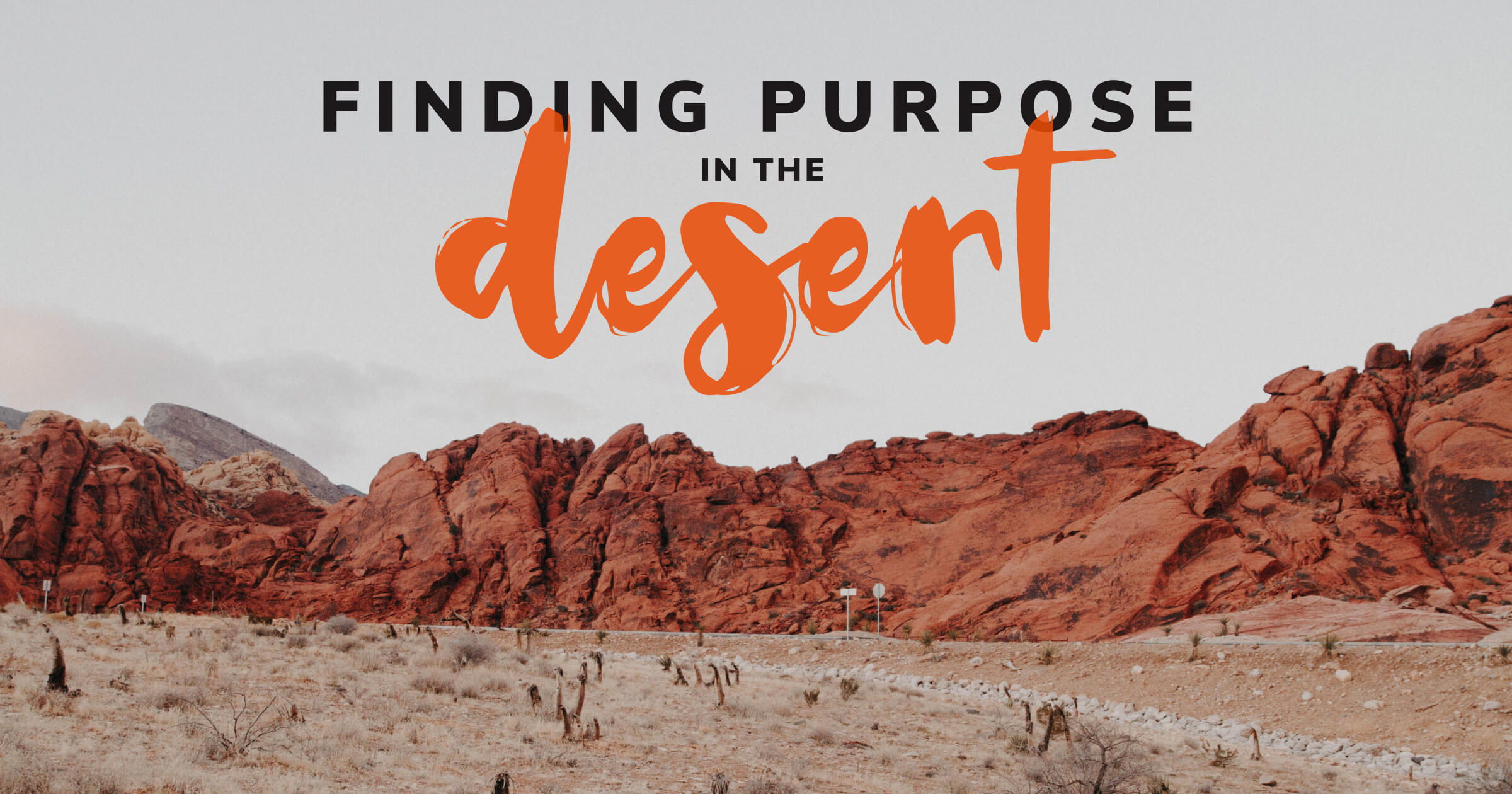 I had been dealing with a difficult situation that was causing memories to flood in from my past. I felt as though God was taking me down a repeat scenario from my past, causing anxiety to flood into my heart. I hoped that I wouldn't have to experience that difficult circumstance again and relive the emotions that left my heart torn.
While enduring through my current struggle, God brought this verse to my attention while I was reading one day. It seemed like it continually kept popping up everywhere I went. Whether it be reading my Bible, scrolling through Facebook or as I was reading various books, this verse seemed to show up almost everywhere I looked. I got the feeling God was trying to get my attention.
Forget the former things; do not dwell on the past. See, I am doing a new thing! Now it springs up; do you not perceive it? I am making a way in the wilderness and streams in the wasteland.
Even though I felt as though God was leading me down an all-too-familiar path, I felt like He was telling me that this time it would be different. He was doing a "new thing," and even better, He was working in what seemed like a barren desert. Even though He hasn't revealed what "new thing" He's doing, I know He's using this dry, seemingly unproductive place, and He is making a way.
Maybe you feel like you're in a similar desert place. Maybe you've been stuck there for what feels like an eternity, and you're not sure what God wants from you? You can't see what lies ahead and you're growing weary waiting for relief. Let me share 5 ways that I've been trying to find purpose in my "desert place." I haven't overcome these in any way, but I hope that it may help you through yours as well.
Rest in God's Way
We look at our circumstances and see desolation, where God sees an entirely different picture. Where we see difficulty, God sees opportunity. In 1 Peter 4:12, we're told that we shouldn't be surprised when we encounter fiery trials. He goes on to say that we should rejoice, knowing that our suffering is preparing us for eternal glory.
Amidst being in a barren place of uncertainty, I have continually tried to remind myself of God's purpose for this time. I may look all around and not see any signs of reprieve, but God's still making a way. In the verse I shared above, I like how it mentions He's already doing a "new thing" and goes on further to say "don't you see?" How often I get so caught up in what I expect God to be doing in my life, that I forget to be aware of all the many ways He is at work.
When the perfectly planned lives we've dreamed for ourselves don't seem to be going the way God is leading us it can be difficult to accept. Trusting Someone you can't see or hear can make it even more difficult. If you're struggling to trust God with the direction He's leading you, take a moment and remember He's the One who created you. He created you. He knows what makes up the deepest part of your heart. He's been with you every step. Every heartbreak and every success. He's planned it all out before time. If He created you and has purposefully thought out each step of your life, having faith in Him seems like it makes so much more sense than trusting what you think is best.
When you're wondering why God led you to a dry, desert place, remember He knows what He's doing. Trust in His way, not yours. We need both the rain and the sunshine in order for our relationship with God to grow and produce fruit. We can only see a tiny piece in our story, trust God to write it and be surprised by the incredible ending!
Commit your way to the Lord; trust in Him, and He will act.
Focus on what you can learn
In times where I feel like I'm in a dry wasteland, it's difficult to find hope that it's being used for something worthwhile. I've been learning the hard way that instead of getting disheartened with where I am and what I wish my life consisted of, I should rather be focused on what I can be doing now.
How can I be using what God has given me right now to glorify Him? God has provided me with everything I need for the present time, but how will I use it to fulfill His will for my life today? How can I use this dry and barren place to grow into a deeper relationship with God? What is God trying to teach me that I could only learn from being in this desert place?
Use this time and focus on strengthening your relationship with God. Seek Him and ask what He desires you to learn during this season of your life. Trust that He's using it for your benefit, to strengthen and grow you beyond what you can see.
Desire God
God often brings us into a desolate place so all we have left to do is rely on is Him. He loves when we desire Him and rely on Him for strength.
When you're in over your head, I'll be there with you. When you're in rough waters, you will not go down. When you're between a rock and a hard place, it won't be a dead end—because I am God, your personal God.
When we're left with nothing, we begin to realize just how much we need God. He's the One who provides us with everything we have and need. When everything is stripped away, we are reminded just how much we rely on earthly things for support, provision and happiness. It is when they are taken away we rely on God because He's all we have left. He's our only source of hope and strength.
Instead of focusing on what you think your life is currently lacking, focus on what God's blessed you with. Contentment is found, not by achieving what we want, but being satisfied with what God has already blessed us with.
When we desire to spend time with God, He will draw near to us. He wants us to seek after Him and make Him the primary focus of our lives. Not searching for answers to our problems. Not looking for circumstances to change to make our lives easier. Not using Him as a "genie" to grant us three wishes, but rather, desiring to know Him and trust Him more.
Draw near to God and He will draw near to you.
Ask God to give you a desire to know Him more. Let the world and the temporary pleasures that you think will satisfy your heart fade into the background and put God's voice first. Write down some of His promises. List out characteristics that define Him. When you do, I think you may just begin to rely on Him more in your desert place. I'll list a few of my favorites below:
God will never leave you or forsake you. // Deuteronomy 31:6
God supplies all our needs // Philippians 4:19
God's plan for our life is for our absolute best // Jeremiah 29:11
God remains with us no matter how dark life gets // Psalm 23:4
God is guiding us when we are trusting in Him // Proverbs 3:5-6
God is always listening when we pray // Jeremiah 29:12
The Lord is near when we call on Him // Psalm 145:18
Nothing can separate us from God's love // Romans 8:38-39
God is always working for our benefit // Romans 8:31
God is forever faithful // 2 Thessalonians 3:3
God will never change // Malachi 3:6
God is fair and just // Deuteronomy 32:4
All things are possible with God // Matthew 19:26
Pray & Listen
If I'm being totally honest, there have been times that I've been led into believing the lie that my prayers seemed like a waste of time. Yes, I saw God answer prayers in the past, but it felt as though certain things I'd been praying earnestly about were being cast aside. Prayer is an intimate way we can spend time with God. How often I take advantage of the ability to communicate with the God who created me.
We're not limited in our time to pray. We have the opportunity to come to Him at any time, even if it's 2am in the morning. God always yearns to hear our voice. He won't give us the cold shoulder or withhold something good for us just because we've messed up. No prayer goes unheard. No prayer is unimportant to God.
Even though I don't do it as often as I should, I enjoy writing my prayers out in my journal. I find it encouraging to look back to previous prayers and see how God answered prayers to things I was praying for. Sadly enough, even things I forgot I had even prayed about (Yes, I tend to have a pretty bad memory). I also enjoy seeing how my prayers have changed over time, or more importantly, how God has changed my heart over time.
Prayer is such a powerful tool, but I tend to underestimate its potential. It's not that prayers need to be perfectly worded or contain keywords that will get God to answer our requests. It's taking the time to communicate with God intimately and spending time with Him. It's seeing Him working through our heartfelt pleas and using our prayers to thank and praise Him for who He is.
Utilize prayer in your desert place to communicate with God on a deeper level. Open up about what's been on your heart, let it all out. He's not afraid of your honesty. He desires to know what you're struggling with. Seek Him and ask for His strength if you're feeling weak and weary. Submit your plans and requests, knowing that He will take care of them and provide what you need. Ask for guidance and direction to lead you down the path He desires you on. Offer up praise to Him for all He has done and the blessings He has bestowed upon you.
While prayer is a way for us to communicate with God, I've learned to also take time to just listen in silence and ask God to reveal Himself. Listen for Him. I've found that when I sit in silence listening for God, He instills words of Scripture as encouragement.
Then you will call on Me and come and pray to Me, and I will listen to you. You will seek Me and find Me when you seek Me with all your heart.
Serve God
I've left this one for last, since I have found it beneficial to strengthen my relationship with God and spend time with Him before I can effectively serve God and others. While there's definitely nothing wrong with serving at any time, I have found my heart is in a better place when I'm close with God first.
When your life feels barren and dry and you don't seem to see any sign of change, use where you are to serve God. When we use what God has given us (although it may not seem like much) to help others and use our talents, God is pleased with our obedient heart.
When we serve, we are putting other's needs before our own and can focus on helping others rather than focusing on what we feel is lacking in our own life. If you're currently not serving, maybe take a moment and ask God if there's any areas that He would desire you to serve. Ask Him to open up opportunities and lead you to where He wants you to serve.
Serving isn't meant to bring us glory or make us look better, it's done with the intention to help others and glorify God.
God is not unjust; He will not forget your work and the love you have shown Him as you have helped His people and continue to help them.
If you're finding yourself in a desert place, remember to rest, knowing that God's preparing the way for you. Focus on what God may be trying to teach you. What are you experiencing now, that you could only learn with enduring through this barren place? Seek God and desire to grow closer to Him. Draw near to Him by spending time in prayer and listening for His voice. Use this time to serve God and bring glory to Him by using your life to help others and encourage them with God's love.
We may not understand why God has led us to this desert place, but we can rest knowing that there's a divine purpose. God is near. He is still working. We weren't led here by accident. God has great intentions for the desert we're in and it's not interfering with His plan, in fact, it's fulfilling it. Don't be surprised when God leads you into the desert, because He's using this desolate place to make you thirst after Him more than ever. Sometimes death and desolation is necessary so "new things" can grow from it!