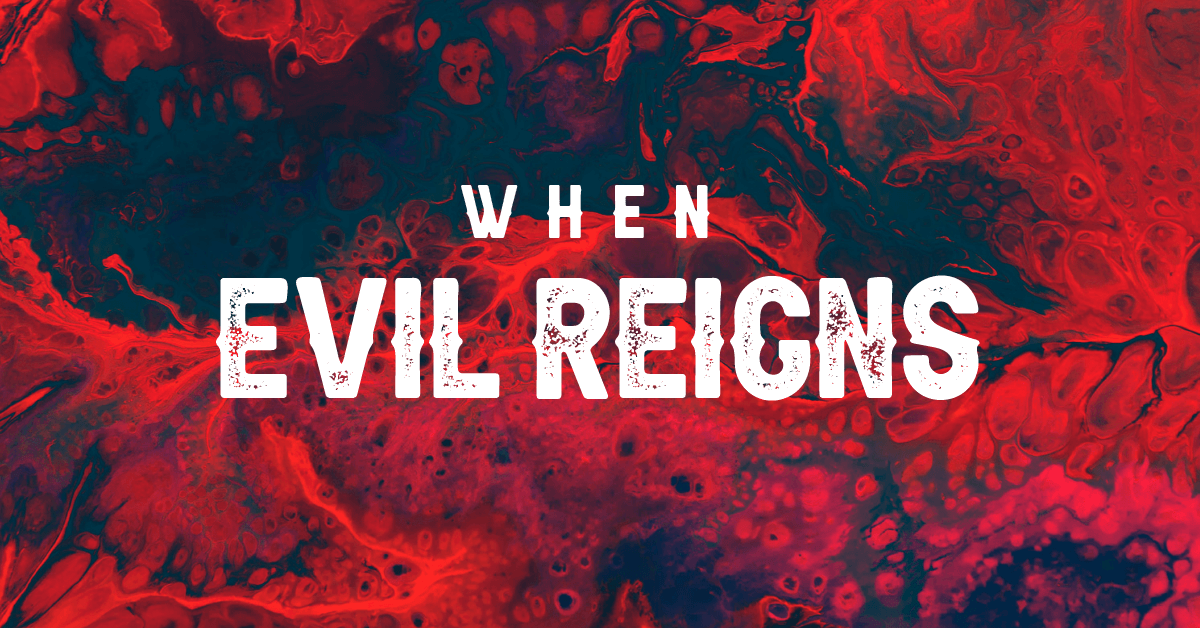 In my twenty something years living on this earth my eyes have never been more opened to the evil in this world than over the past year. I have to be honest in admitting that when I look around at the evil in this world it stirs up anger in my soul. When evil is applauded it doesn't feel right to remain submissive to its injustice. I want revenge. I want justice. It's ever so difficult to sit tight and watch evil winning right before our eyes, causing us to feel powerless to its control.
Over the past couple months I've experienced a personal situation of injustice first-hand. My endurance through years of suffering ended in being overtaken by deception, evil and mistreatment. It cut so deep and felt so defying of my character. It's been ever so difficult to overcome the corrupt lies Satan has embedded in my heart and I have struggled letting God take control of my situation. I've felt dominated and overruled, but I know that justice still has yet to be fulfilled. Even though right now it feels like Satan has the final say, God's not finished yet, it's only just the beginning.
Romans 12:19
Do not take revenge, my dear friends, but leave room for God's wrath, for it is written: "It is mine to avenge; I will repay," says the Lord.
Maybe you too feel the same, especially with the world we are living in today. You look around and see evil reigning and ruling. It can become frightening not knowing if God is still in control and if He is aware of what is happening.
Even amidst every mistreatment, deceptive plot and deceitful scheme, what helps me to not lose heart is knowing that God sees. He sees it. He knows how it breaks your heart. He sees how it affects you. He's aware of it. He is taking care of it. It may not be immediate. It may not even be on this earth, but He WILL fulfill His promise to bring ultimate justice with what has been wrongly done. He hasn't gotten distracted. He didn't forget. He's not afraid. He hasn't been overcome. Just wait, it's coming and He will make sure ultimate punishment is taken care of, far beyond anything we could imagine.
Psalm 9:7-8
But the LORD reigns forever, executing judgment from his throne. He will judge the world with justice and rule the nations with fairness.
Those who are evil and are plotting evil schemes in this world may think that they have gotten off the hook and they've won, but they will one day be horrified with their decisions, acts of treason and plots of deception. They laugh now, but one day their laughter will turn to tears of sorrow and agony for their actions. They may think they have "won" and overcome, but will be surprised that God is taking the throne and will reign victoriously.
God has granted Satan a short time to reign on earth to test and examine our endurance, faith and perseverance. It's not meant to harm us, but strengthen, teach and prepare us for our future home. Will we fall into Satan's schemes or will we stand on God's truth and trust Him even when everything around us feels like it is crashing down? God told us that things would get worse in the last days. It's not something we should be surprised by, but rather we should be using this time wisely to shine God's light even brighter into the dark world around us. It sure isn't easy, but God has intentionally selected us to be present during this special time to do minister to this darkening world. God wanted you present during some of the world's worst days, and He is still working and using you to help fulfill His amazing master plan.
2 Timothy 3:1-4
There will be terrible times in the last days. People will be lovers of themselves, lovers of money, boastful, proud, abusive, disobedient to their parents, ungrateful, unholy, without love, unforgiving, slanderous, without self-control, brutal, not lovers of the good, treacherous, rash, conceited, lovers of pleasure rather than lovers of God.
The world may be getting darker, but God's return is getting ever so much more closer. Use this time to strengthen your walk with God and be an even brighter beacon of light to the world when they need it most. Or if you aren't a child of God, use this as an opportunity to accept Jesus as your Savior and seek forgiveness for your sins. Evil may be reigning now, but Satan's time is speedily ending and God will take His place as King. Ultimate justice will finally be established, and God will forever reign in a perfect paradise!