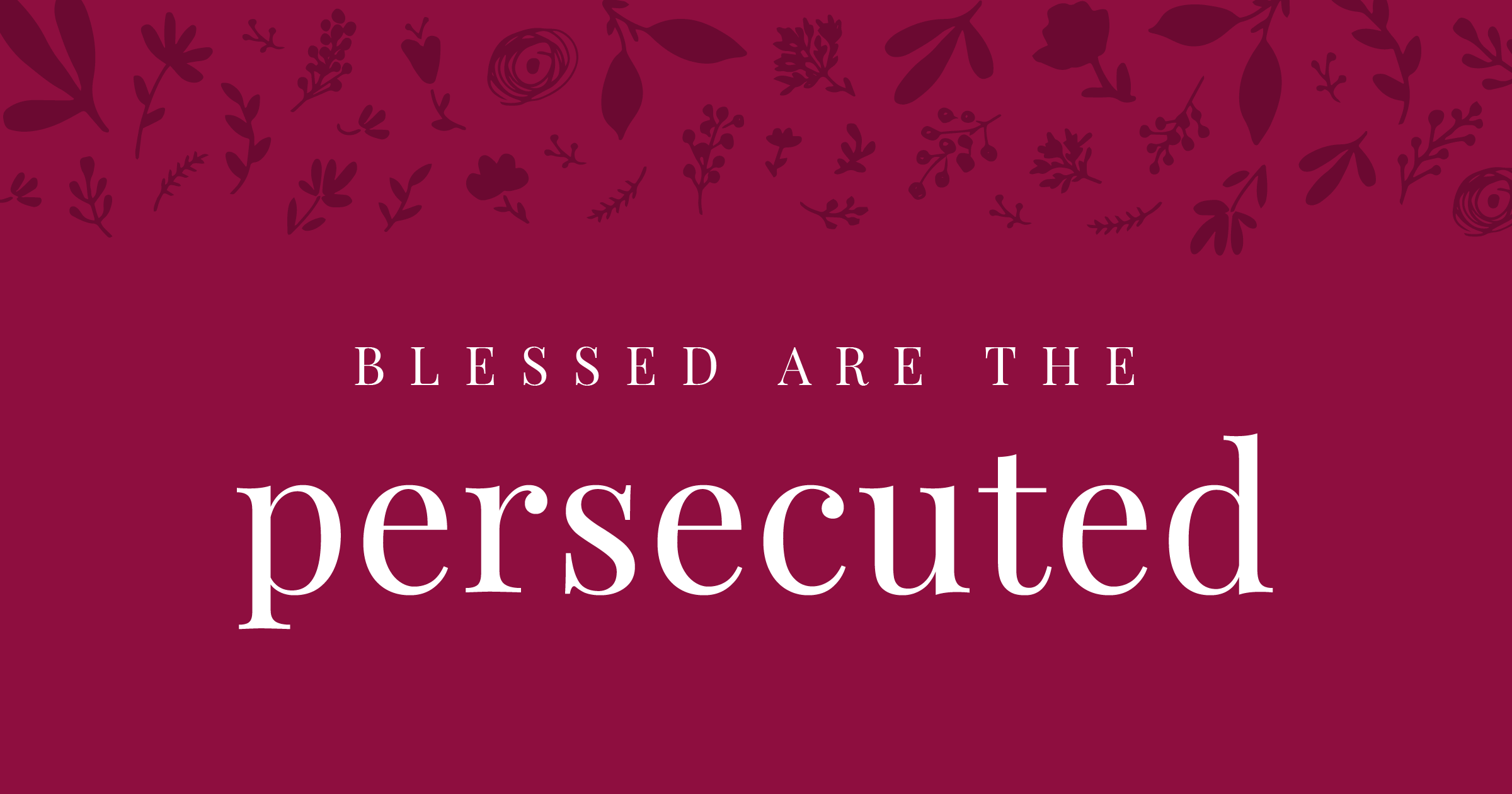 Have you ever been treated differently because of your faith? Have you tried to be a light and felt like others tried to put out your fire? Have you pushed through fear to display courage and be different, only to be rejected and betrayed for your faith? Have you felt like you've offered God's love to others who instead used your Christ-like character to their advantage? Have you ever been sneered at for your beliefs and professing to be a child of God?
Matthew 5:10-12
Blessed are those who are persecuted because of righteousness, for theirs is the kingdom of heaven. Blessed are you when people insult you, persecute you and falsely say all kinds of evil against you because of me. Rejoice and be glad, because great is your reward in heaven, for in the same way they persecuted the prophets who were before you.
What does it mean to be persecuted?
In verse 11, we see God switching from a third person tense and changing to a first person "you," resulting in this beatitude being believed to be the most personal. God instructs us that those who are persecuted for their faith will be rewarded for their commitment and courage to withstand the harassment of others for their faith.
According to the Merriam Webster dictionary, "persecute" can be defined as to harass or punish in a manner designed to injure, grieve, or afflict. To cause to suffer because of a belief. To annoy with persistent or urgent approaches such as attacks.
As defined above, persecution can be referred to as being harassed, rejected or enduring physical suffering for standing up for God or what you believe in. While persecution does certainly include physical abuse for our faith it can be a much different kind of treatment in the world most of us live in today. While there are many missionaries and Christians living out their faith in countries across the world that endure extreme physical persecution every day, other forms of persecution also exist that we may suffer as Christians. This could result in losing a job, being bullied, enduring harassment at school or work, rejection from friends or relationships due to you living out your faith.
1 Peter 2:20
But if you suffer for doing good and you endure it, this is commendable before God.
In this passage, we are told that we will be blessed for the persecution we face for our righteous acts. To clarify, this refers to those who are persecuted for being "righteous" and does not include persecution that has occurred for doing evil or standing up for something immoral. True righteousness is not offered for our benefit, but solely to bring glory and honor to God.
As I've grown older I've experienced many difficult circumstances involving standing up for my faith. God has tested me if I would choose to stand up for what is true, or if I would be swayed by the world and it's lies. I've lost friendships, relationships and even job opportunities in result of living out my faith. While many of us may not have endured through physical abuse for our faith, many of us have been treated unfairly as a result of standing up for God. Some of the toughest struggles we face can be criticizing words coming from those we seek to impress the most.
When persecution occurs our common reaction is to revert to the comfort of turning to our sinful human nature and not react in love. Our natural instinct is to seek revenge and overtake evil with anger. We can remember that persecution isn't between us and our offender, but is in fact, Satan attacking God. There is a battle being fought and we can only see a tiny sliver of what is really going on in the supernatural realm.
When we live righteously, those who are living in evil desire to persecute us for our faith. When we stand up for God's truth, those who are living in evil and loving the ways of the world will despise our standards. They don't want to feel guilty for their sins and immorality. They seek to persecute Christians for their faith to remove the guilt they feel for their acts of injustice.
John 3:20; John 15:19
Everyone who does evil hates the light, and will not come into the light for fear that their deeds will be exposed. If you belonged to the world, it would love you as its own. As it is, you do not belong to the world, but I have chosen you out of the world. That is why the world hates you.
Biblical examples of persecution
Stephen was stoned to death.
James, the brother of Jesus, was stoned and his head was beaten with a fullers club.
Matthias was stoned and beheaded.
Thomas was pierced by four soldiers with swords.
Mark was dragged to death by horses.
Andrew, Jude, Simon and Peter were crucified on a cross. Peter requested to be crucified upside down as respect to Jesus' crucifixion.
Luke was hung on an olive tree.
John was cast into a cauldron of boiling oil, but escaped by a miracle and later wrote the book of Revelation. He is the only apostle to escape a tragic death.
Paul was tortured and executed.
Revelation 22:12
Look, I am coming soon! My reward is with me, and I will give to each person according to what they have done.
What we may view as unfair, unjust, inappropriate or cruel, God sees this pain for living righteously as a blessing. He knows that even when we are harassed for our faith, we are deepening our faith and courage to stand up for what we believe. He is proud of His children who remain faithful to Him no matter what the circumstance.
In Matthew 24:21 it states that all Christians will be persecuted. It's not an "if" statement and is no surprise, but is a fact and is something we will face. In Revelation 22:12, we are told that God's reward is coming and we will all be rewarded for our obedience to God.
Persecution isn't pretty or attractive, but it is pleasing to God when we remain obedient to Him, hold fast to our faith and glorify Him even when the world tries to tear us down. Keep holding fast and living for God, it's honored in His sight and we are achieving eternal blessings that await for us one day!
Luke 6:22
Blessed are you when men hate you, when they exclude you and insult you and reject your name as evil, because of the Son of Man. Rejoice in that day and leap for joy, because great is your reward in heaven.